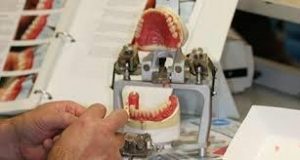 Zane Bell established his denture clinic in 1985 after completing studies at Royal Melbourne Institute of Technology and the Royal Dental Hospital.
In 1998 he was joined at the practice by Jeff Umbers who was previously employed at the Wimmera Health Care Dental Clinic as a Dental Prosthetist.
In 2000 Noelene Barents joined the staff as a Laboratory Technician and Practice Manager.
All three members of the team enjoy a successful relationship and grew up in the region and now have their own families growing up in Horsham, Victoria.
Together we have seen the business grow and have provided our services to over 6,000 clients over the years. We pride ourselves on providing the best possible service to our clients
What can we do for you?
Complete Dentures
Partial Dentures
Implant Retained Dentures
Repairs
Sports Mouthguards